Chris Moss Highlights the Next Generation GLE SUV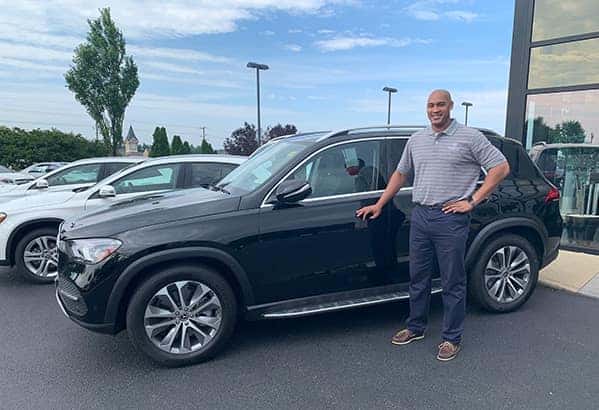 Chris is a Sales & Leasing Advisor at Mercedes-Benz of Midlothian.
The GLE has always been one of our most popular models. Even going back to when Mercedes-Benz created the luxury SUV segment with the ML, the size and look of the model has always appealed to lots of our customers. I think the all-new 2020 GLE puts Mercedes-Benz back where it started, as the leader of the segment. Here are a few of my favorite features.
Extra Room
Take a look at the photo above and you will see I'm a pretty big guy. As a 6'8" former professional basketball player, being able to easily get in and out of a vehicle is important to me. The 3-inch longer wheel base and more upright windshield in the new GLE make a huge difference. No matter how tall you are, it's always nice to have more space. Plus, there's an option for a third row now, which some families really appreciate.
Helpful Technology
The technology that comes standard in the new GLE is amazing – from the 12.3-inch screens to the new MBUX infotainment system, it's like driving a computer. But what I really like about the latest tech from Mercedes-Benz is how simple and helpful it is. I have two daughters (6 and 2 years old) so I love the exit warning feature. When you park, it alerts you if there is a car coming when someone is about to open one of the doors. My girls can be a handful, so I really appreciate anything that helps us keep them safe. There's also MBUX, which uses incredibly smart voice recognition to allow you to do things like set the navigation or the temperature in the car.
Unique Look
I like brands that are different, and I love that Mercedes-Benz is a leader, not a follower. The new GLE has a unique look to it that really stands out among all the other brands' SUVs. It's aggressive and modern but still very elegant. It even comes in two distinctive new colors, Mojave Silver and Emerald Green.

Part of the reason so many people like the GLE is because it's so versatile. With all the improvements in the 2020 model, don't be surprised if it ends up being the front-runner in your next vehicle search. If you have any questions, or if you're interested in setting up a demo, test drive, or would like to place an order, you can reach me at (804) 419-9637 or cmoss@mbofmidlothian.com.