Mercedes-Benz of Midlothian Surprises With Mrs.Yoder's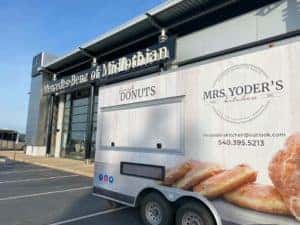 When we say we care about our customers, we mean it. We treated our customers and staff to a sweet morning by inviting Mrs.Yoder's Kitchen to Mercedes-Benz of Midlothian and surprised them with complimentary donuts and coffee. We love showing appreciation for our customers through the support of local businesses with these types of initiatives.
Mrs. Yoder's Kitchen is a locally owned business consisting of a food truck that makes melt-in-your-mouth sourdough donuts. Its owner, Lucas Miller, has spent years sharing his decadent pastry with the Greater Richmond Region. Since Mrs.Yoder's Kitchen is a food truck, they share a weekly schedule on their social media pages so that their sweet-toothed fan base can follow them.
This is yet another demonstration of how we treat our customers like "the best or nothing."